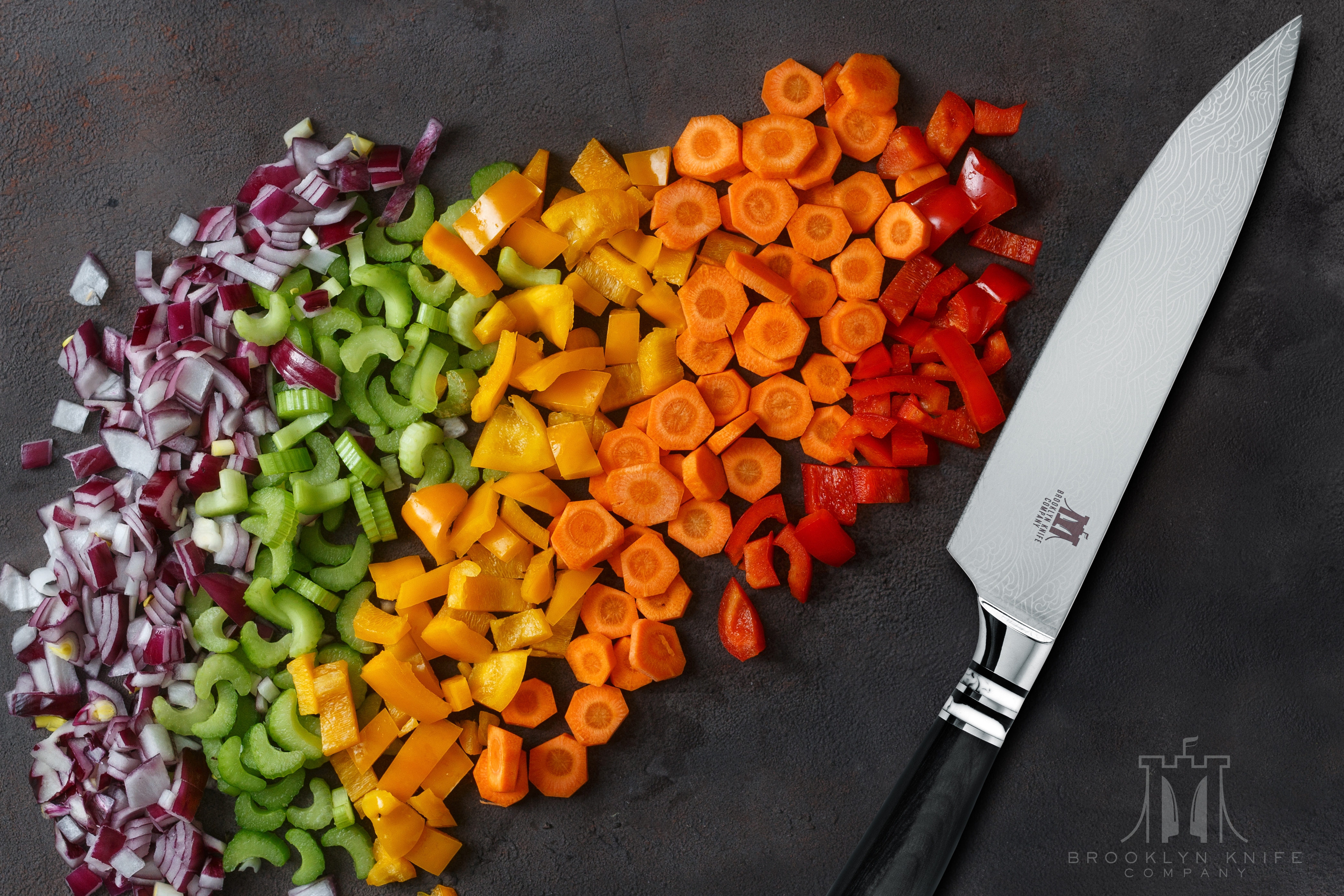 Best Chef Knife Under $50
Are you looking for the Best Chef Knife Under $50?
Brooklyn Knife Company has an outstanding reputation for manufacturing high end kitchen knives and accessories. We incorporate innovative design and extremely durable materials to accomplish this.
Our Seigaiha Chef knife is crafted of superior 7Cr17MoV high carbon stainless steel. This steel allows for a durable, sharp edge while being resistant to corrosion. Our handle is hand crafted of premium Pakkawood and resin to ensure a comfortable, ergonomic grip. The seigaiha (japanese-wave) damascus etching on our blade is not only strikingly beautiful but may even help keep food from sticking to the blade.
Our Carbon Fiber Chef knife is crafted of ultra premium Japanese AUS-08 high carbon stainless steel. AUS-08 steel is engineered to be the perfect composition of materials to achieve a sharp, durable blade. We  of course paired this series to a Carbon-fiber and G10 handle. Carbon fiber is known for being extremely durable and ultra lightweight. Together this knife is a stunning and highly capable knife.
Both of these knives can be purchased for under $50. Utilizing our own manufacturing capabilities and years of experience we are able to offer you a knife that would normally sell for hundreds of dollars and a very obtainable price point. At Brooklyn Knife Company we want everyone to be able to enjoy a quality kitchen utensil.
CHEF KNIFE
A Chef knife is a great all around knife. A must have for any kitchen. Chef knives are designed to excel at many kitchen tasks. You will be able to chop with ease, dice with precision, mince like no ones business. Like vegetables? Not a problem. Slicing meat or fish? Disjointing poultry? They don't stand a chance. Consider adding a Brooklyn Knife Company santoku, paring, utility, bread, slicing and carving knife or our butcher's cleaver to complete your must have collection.
Much like New York and the iconic Brooklyn Bridge our knives are crafted to withstand the test of time!
We start with a vision and create prototypes to ensure our knives are breathtaking and highly versatile. Proper ergonomics ensures a comfortable grip while the precise angle and razor sharp blade feels like an extension of your hand. Your blade will stand up to everyday challenges.
---